Upgrade a Virtual Circuit
When you upgrade a virtual circuit, you can do the following:
Move from a usage-based plan to a dedicated plan.
Change the terms to a longer contract. For example, if you are on a month-to-month contract, you can change to a 12 month contract (which comes with a discount).
Increase the capacity up to whatever the physical port allows.
To upgrade a virtual circuit, log in to the portal and select Network > Virtual Circuits.
Click the connection you are deleting and then select Actions > Upgrade: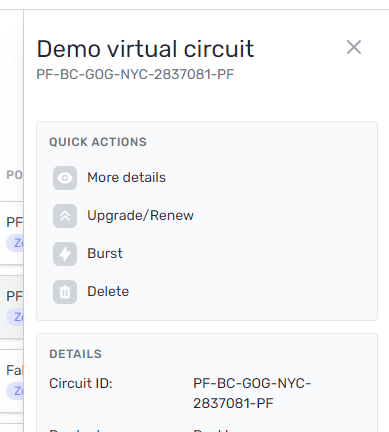 NOTE: If you do not see the Upgrade action, the circuit might not be upgradable. This would be the case for Metro circuits and Longhaul Dedicated circuits with an active capacity burst.
A window opens where you can select the term and speed. Note that you cannot downgrade speed or term. You can make the following term upgrades:
12 months (available to users on a monthly plan)
24 Months (available to users on a monthly or 12-month plan)
36 Months (available to users on all plans)
Your current monthly rate is displayed alongside your new monthly rate: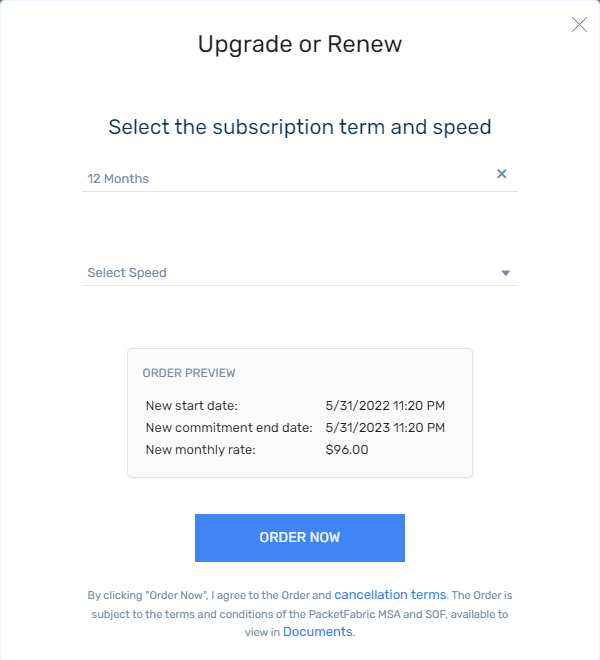 The upgrade process should take effect within a few minutes.
IMPORTANT:
You can only delete virtual circuits that are on month-to-month contracts. For longer contracts, you can
disable the ports
or
edit the virtual circuit
to reduce the rate limit down to 100 Mbps (the lowest possible).
NOTES:
Both the original service and the upgraded service are pro-rated for the month in which you upgrade.
Once you extend the contract terms, you cannot return to a shorter contract until your current terms expire.
When your contract completes, you are automatically reverted back to month-to-month terms.
For more information, see Virtual Circuit Pricing, Terms, Billing.
Related APIs
Updated on 07 Dec 2021