Maintenance Notifications
You can also view all previously sent notifications by selecting Support > Notifications. This includes additional details such as who has received each notification. All users can view this information.
Maintenance notices fall into two groups:
Scheduled maintenance

This is routine maintenance to ensure the stable and reliable operation of our network infrastructure. This includes software upgrades, infrastructure augmentation, and any other work that can be planned in advance.
PacketFabric will provide at least 10 business days notice prior to any service interruption, and any service interruption always occurs between 12:00 am to 6:00 am in the local time zone of the affected location.

Emergency maintenance

If emergency maintenance is necessary, PacketFabric will attempt to provide as much notice as possible and will email all Technical contacts defined in the portal.
Manage Technical contacts
Maintenance and outage notifications are emailed to the company contacts assigned to the Technical role. Company contacts are different from users.
You can view contact information by clicking your company name in the upper left of the portal and selecting Company contacts: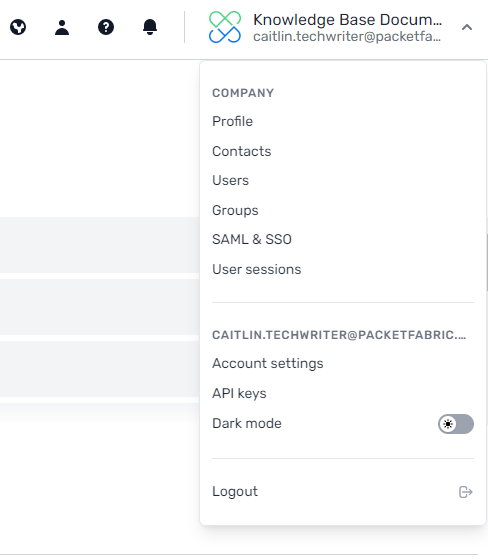 NOTE: Only Admin users have permission to add or update contacts.
Add a new Technical contact
From the company contacts page, click Add company contact in the upper right.

Complete the fields with the appropriate information.

Select Tech at the bottom of the window.

Click Add Contact.
This new contact will receive all future maintenance notifications.
Update or remove technical contacts
If someone no longer wants to receive notification emails, or an existing contact wants to receive them, you can modify their role:
From the company contacts page, click the Edit icon next to the contact you want to update.

From the Update company contact window, select or deselect Tech.
View notification details from the portal
Log in to the portal and click the support icon in the upper right and then select Maintenance Notifications.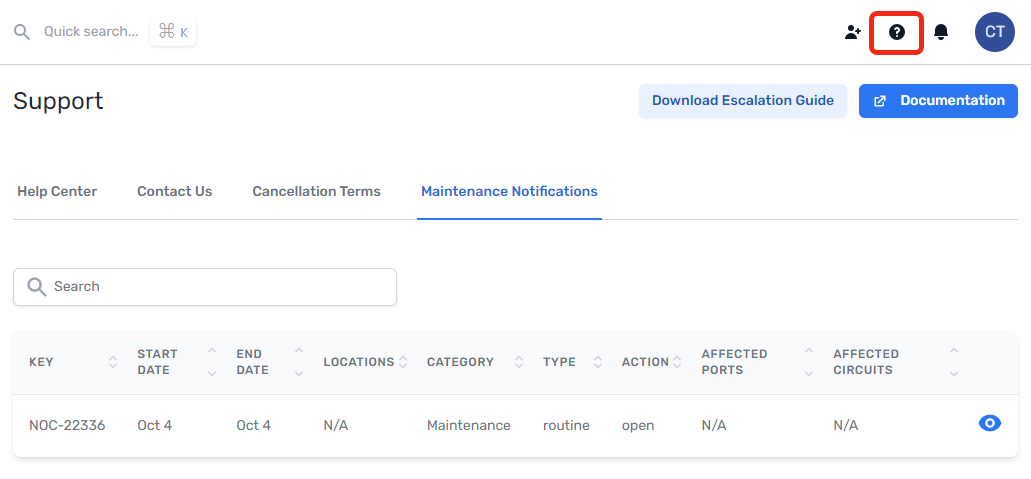 Click the View Notification icon to view the following information:
Date/time the maintenance started and completed
Details about the work performed
Everyone who received the notification.

NOTE: You do not have to be assigned to the Technical role to see this page.
Related links
Related APIs
Updated on 30 Nov 2022