April 28, 2022 Release Notes
New features
Multiple BGP sessions for dedicated port Cloud Router connections
You can now have multiple BGP sessions for a Cloud Router connection, provided that connection is to a PacketFabric port.
Multiple BGP sessions are not supported for cloud and IPsec connections.
For more information, see Configure BGP for Port Connections.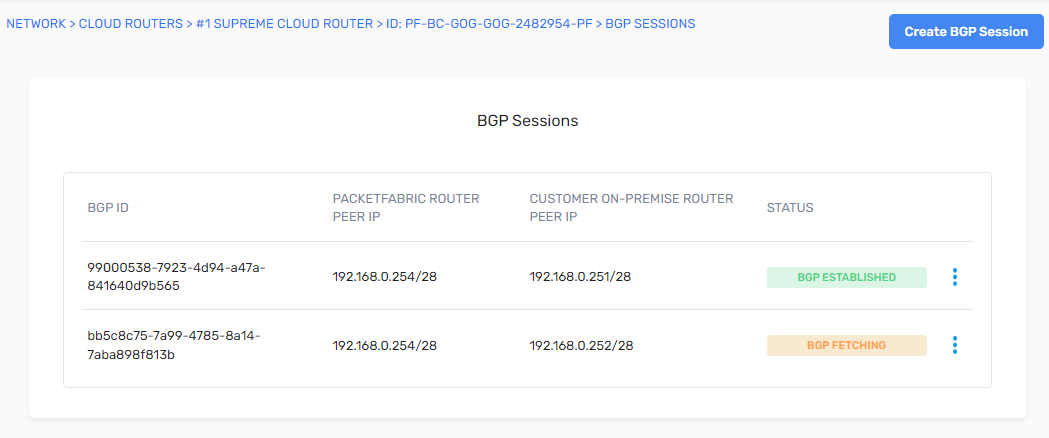 Resend invite for pending users
When you invite a user to an account, they appear under Pending Users on the Users page.
You now have the option to resend the invite to that user.

Changes and enhancements
Implemented safeguards to prevent duplicate customer registrations.
Updated the PacketFabric logo on generated LOAs.
Bug fixes
Point-to-point pricing was not displaying correctly when using the Reseller Admin Portal quoting tool.
Portal not displaying the site name for the Z-side end of the connection.
Not all eligible ports were displayed when creating a cross connect in the portal.
Some upgrades were failing for virtual circuits on dedicated contracts.
The burst option was improperly displaying for non-eligible virtual circuits (marketplace and IX).
Fixed some spacing and margin issues in portal side panels.
The Interfaces table on virtual circuit details pages was showing disabled ports as active.
Updated on 11 Jan 2023