Reseller Portal Administration
Once your Reseller account is set up, one of your first tasks should be reviewing and completing the information under the Admin tab.
Company profile
Use this page to customize your company name and information, as well as control whether users in your account are required to set up multi-factor authentication. For more information, see Company Profile.
Contact information
This is the information your customers will see when they log in to the portal and select Support > Contact Us.
For example, entering this: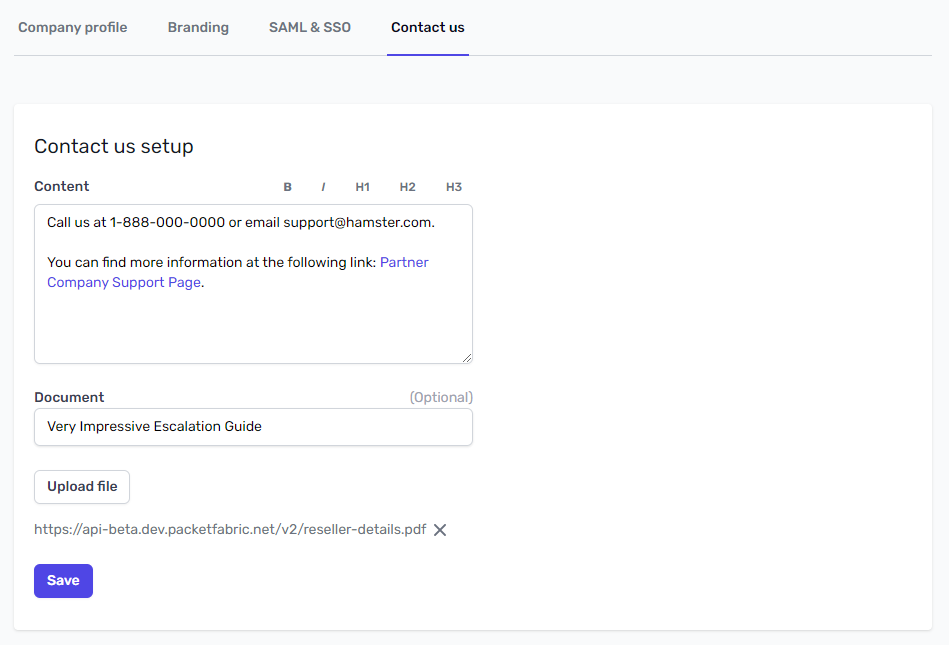 Is shown to customers as follows: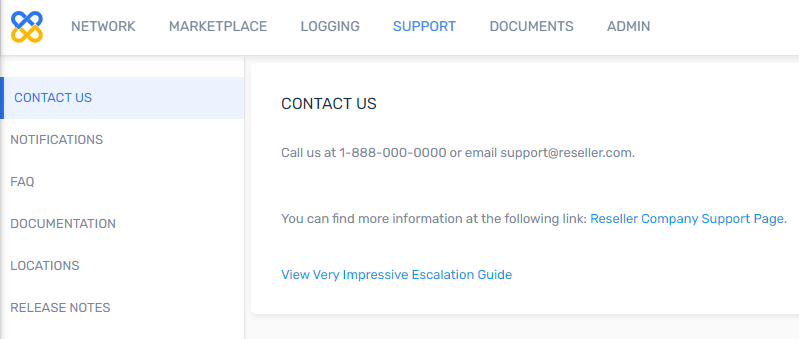 Logging
This is the activity log. This shows actions done by users in the Reseller Admin portal.
Any actions on services performed in customer accounts by a reseller user are logged in that customer's account. For example, if you use the View Customer action to enter a customer's account and order a service, that action will be shown in the activity log in the customer's account.
For more information on using the logs, see Activity and Error Logs.
NOTE: At this time, the Reseller Admin Portal logs only display user logins. More log events may be added in the future.
Contacts
Use this page to add and manage account contacts. Contacts are different than users; for example, you can assign an email alias as a contact to receive all maintenance notifications.
For more information, see Company Contacts.
Users
Use this page to add and manage Reseller Admin Portal users. A typical user would be a team member from within your company. Users are distinct from contacts (see above) and customers.
For more information, see Create Users and Manage Users.
Groups
Use this page to manage the permission levels of reseller account users (those users added on the Users page).
This permission level carries over when you access customer accounts.
For example, if a Read Only reseller user clicks View Customer to access a customer's account, they will be unable to create or modify services on behalf of the customer. But an Admin reseller user will have the same privileges as an Admin customer user.
For more information, see Groups.
SAML & SSO
If you use an identity provider service, you can use this page to set up SAML.
For more information, see SAML and SSO.
Updated on 29 Apr 2021