Partners Portal Overview
As a PacketFabric partner, you can use the Partners portal to view and manage customers.
Dashboard
The dashboard provides an at-a-glance overview of services purchased by your customers.
In the top right, you can find the MRR (monthly recurring revenue) for the current month:

NOTE: The MRR only includes services that are being billed. Services such as access ports do not begin billing right away, and therefore are not immediately included in the MRR.
And below, you can find graphs representing sales data. The information displayed reflects the selected date range: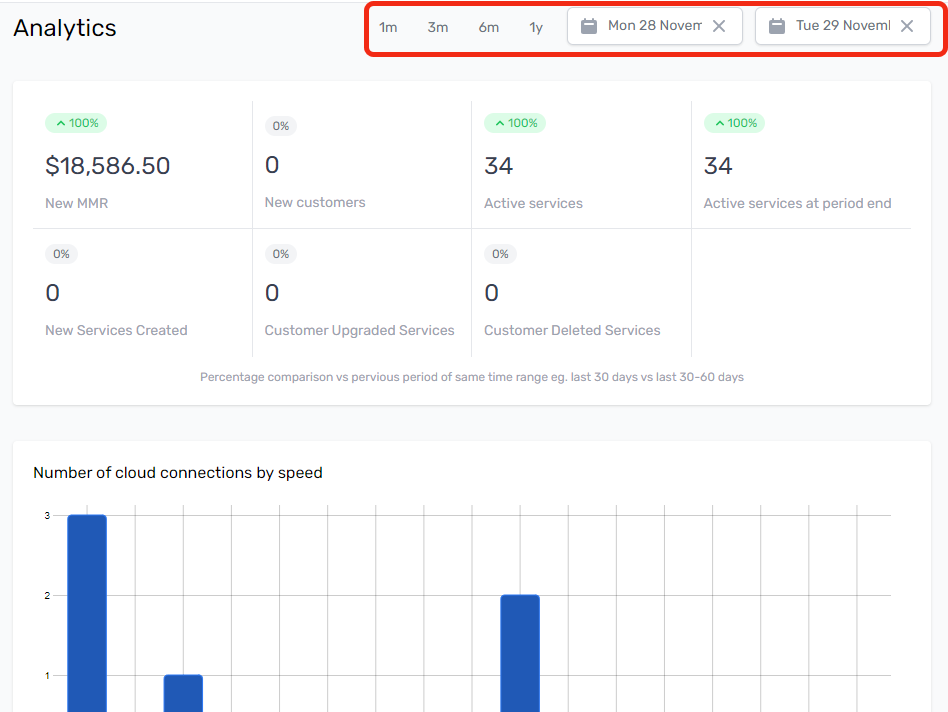 NOTE: Again, these graphs and numbers only include services that are billed. To include newly ordered ports, you will need to set the end date to at least 15 days after the port was ordered.
Quotes
From here you can view, create, and download pricing quotes.
For more information, see Quoting.
Customers
From here you can invite customers, resend invites, and log in to customer accounts to manage services on their behalf.
For more information, see Invite Customers and Manage Customers.
Billing
From here you can download invoices and add/manage billing accounts. For more information, see Billing for Partners.
Documents
Here you can find documents for your account such as the MSA and all reseller agreements. To view documents generated by your customers (LOAs, SOFs, etc.), use the Customers page to log in to their accounts.
Users
Use this page to add and manage users. These are users from within your organization who should have access to the Partners portal.
For more information, see Create and Manage Users and Groups.
To manage which customers a user is able to view, and the permissions they should have when viewing that customer, see Manage Customers.
Logging
This is the activity log. This shows actions done by users in the Partners portal.
Any actions on services performed in customer accounts by a reseller user are logged in that customer's account. For example, if you use the View Customer action to enter a customer's account and order a service, that action will be shown in the activity log in the customer's account.
For more information on using the logs, see Activity and Error Logs.
Admin
Use the Admin tab to set up the contact information that your customers will see. From here you can also manage users and other account settings.
For more information, see Partners Portal Administration.
Support
Here you will find PacketFabric technical support contact information and maintenance notification history.
Updated on 04 Dec 2022