Cloud On-Ramps
For a list of cloud on-ramp locations, see our website.
A "cloud on-ramp" is a colocation facility (typically a data center) that houses CSP edge devices. These are places in which, if granted permission by the cloud provider, you can set up a direct physical connection to their network.
Basically, this is where you can "plug in" to the cloud.
Generally speaking, there are two ways you can build these types of connections to a public cloud:
You have equipment in the on-ramp facility AND your equipment meets the requirements set by the CSP.

or

You can connect to a cloud partner (e.g. PacketFabric) that is already set up to reach the CSP edge, who can then extend that private connection to wherever you are.
In order to build these connections, PacketFabric typically has to meet a set of criteria set by the CSP. This can include hardware and diversity requirements.
Service demarcation
The service demarcation for both Hosted and Dedicated connections are the same. The service demarcation points are at the virtual interface on the ingress port and termination point of outbound cross connect to the cloud from the egress port.
Requesting Hosted locations
NOTE: The following only applies when:
The connection is to Google Cloud Platform, IBM, or AWS.
Your source port is an access port (regular or ENNI) that has already been provisioned. This does not apply if you are using a marketplace provider port as the source.
When an on-ramp location does not have a Hosted port currently available, you can still request a port. However, there will be an extended lead time.
The portal provides an initial estimate before you complete your order: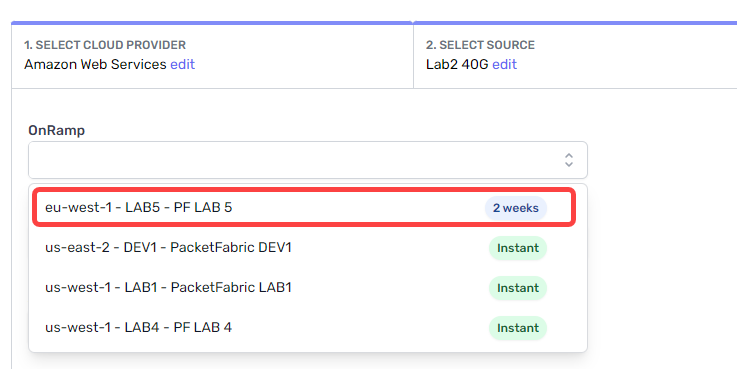 Once requested, you can track your progress via the portal:

As the Hosted port moves through the setup progress, you will see the following statuses:
onramp_pending
waiting_for_onramp_loa
onramp_xc_ordered
testing_onramp
onramp_onboarding
onramp_live
Updated on 03 Nov 2022