November 6, 2020 Release Notes
New features
Order PacketFabric outbound cross connects when creating a point-to-point connection
You now have the option to upload an LOA for one or both ports when creating a point-to-point connection: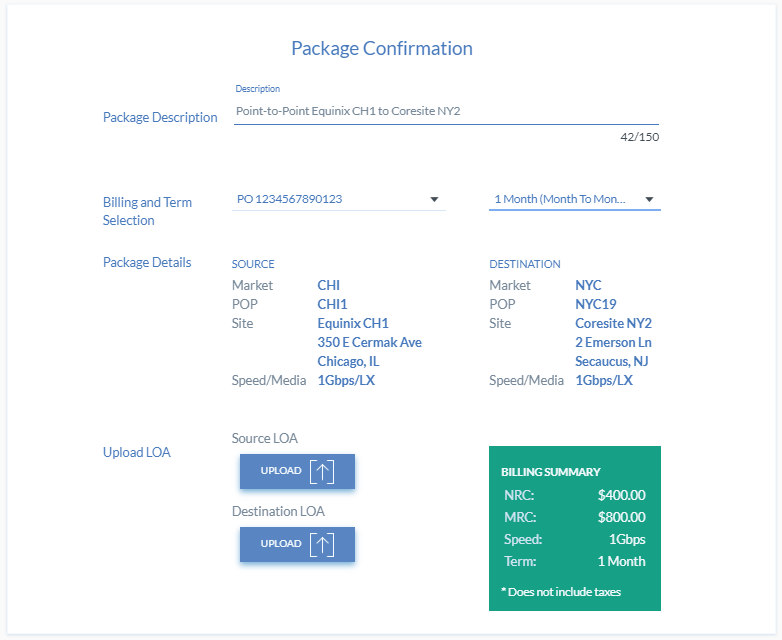 For more information, see Cross Connects.
Enable and disable ports in a point-to-point connection
You can now enable and disable ports from the point-to-point connection details page: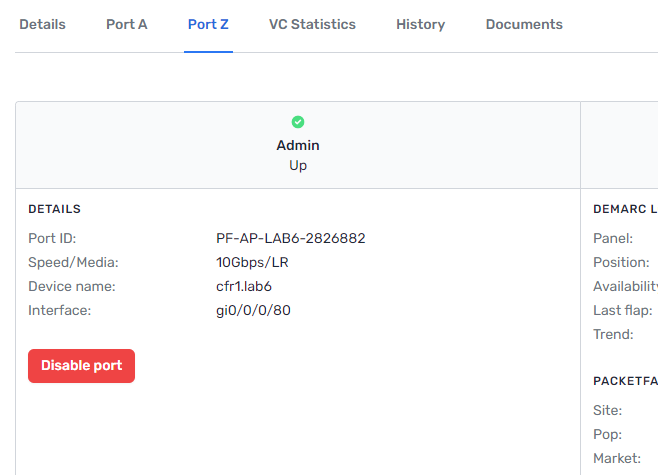 Changes and enhancements
Added an API property to identify devices that support LAGs.
Continued work converting portal pages to API v2.0.
Virtual circuits now show immediately after provisioning without requiring a page refresh.
When creating an IX connection, the IX's alias (if specified) appears in the drop-down menu when selecting an IX.
Removed the Learned MACs page from virtual circuit details pages.
For marketplace and IX connections, the A side can now modify rate limits when editing the virtual circuit.
Bug fixes
An error in the billing system resulted in multiple SOFs being generated and sent.
Incorrect IX bandwidth options were displayed on order forms.
IX virtual circuits not displaying prices.
Fix to prevent users from creating IX and marketplace virtual circuits that are untagged on both ends.
Users were being sent to the wrong page when trying to navigate to a hosted cloud virtual circuit from a port details page. This resulted in some VLAN IDs being incorrectly modified.
LAG interfaces not showing location or media.
Invalid circuit IDs shown on dashboard graphs.
Cloud connectivity documents were not being listed.
Fixed several issues in which services created with API v1.0 were not responding correctly to API v2.0 requests.
New virtual circuits incorrectly placed in the "Disconnected" state.
Fixed multiple issues that were occurring when creating a dedicated cloud connection.
Users were unable to upload LOAs in .docx format.
Read-only users were unable to view upgrade options.
The Z side was seeing a 404 error when populating connection requests if the A side had already deleted one of the requests.
Network
New locations
10/01/2020 - LON2: Interxion LON1 at 11 Handbury St, London, E1 6QR
10/12/2020 - CDG1: Equinix PA2 Paris at 114 Rue Ambroise Croizat, Saint Denis, France 93200
10/12/2020 - CDG2: Interxion PAR5 at 11-13 Avenue des Arts et Metiers, Saint Denis, France 93200
10/22/2020 - AMS1: Equinix AM3 at Science Park 610, 1098 XH Amsterdam, Netherlands
10/26/2020 - FRA1: Equinix FR5 at Kleyerstraße 90, 60326 Frankfurt am Main, Germany
Knowledge base
New pages
Updates
= Indicates changes done based on customer feedback.
Updated on 19 Sep 2022