Quoting
You can use the Reseller Admin portal to build customer quotes from the Quoting page.
Create a quote
Select New Quote in the upper right to create a quote.

Use the description field to provide a meaningful name for your quote.

Click Add Product to select which PacketFabric services to add to the quote.

Depending on the type of product you select, you are given a set of options. These options can affect the price of the product.

TIP: When selecting locations, you can search by typing into the field rather than scrolling through the full list.

Once added, you can edit and delete products from the quote:
When you are finished adding products, you can do one of the following:
To keep the quote open, simply navigate away from the page. Your quote is saved and you can return to it later.

To finalize the quote and download a PDF or CSV, click Finalize in the upper right.

Finalization is not permanent; you can later re-open finalized quotes.

To cancel the quote, click Cancel in the upper right.

You cannot un-cancel a quote. However, you can return to canceled quotes and duplicate them to create a new quote.

To duplicate the quote and create a new one, click Duplicate in the upper right.
View quotes
The default view on the Quoting page only shows Open quotes. If you are unable to find a quote, use the filter drop-down menu: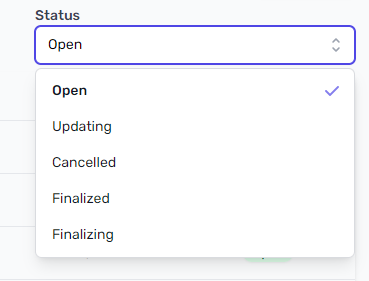 Double-click the quote to view its details.
NOTE: The Open quote total is the sum of all visible quotes. For example, if you filter for all finalized quotes, this will display the sum total of finalized quotes.
Updated on 25 Mar 2022