September 3, 2020 Release Notes
New features
Company-wide multi-factor authentication requirements
There is a new setting on the Company Profile page that, when set, requires all users to enable multi-factor authentication: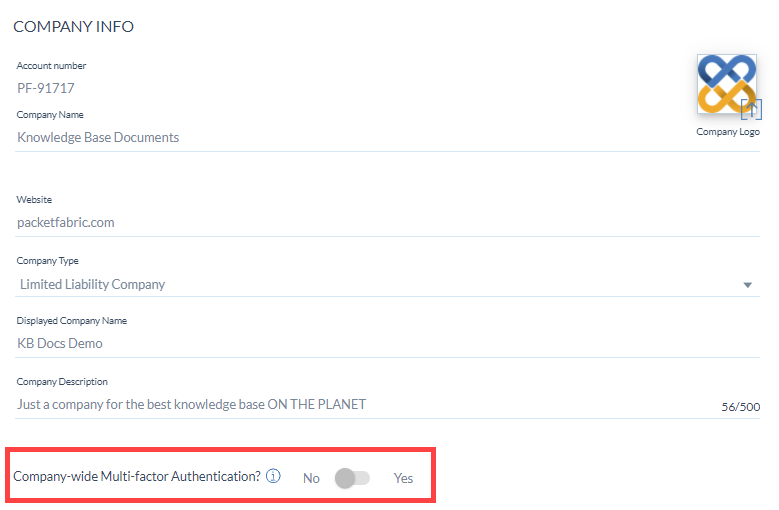 Clicking the toggle opens a window that lists all users and their MFA status: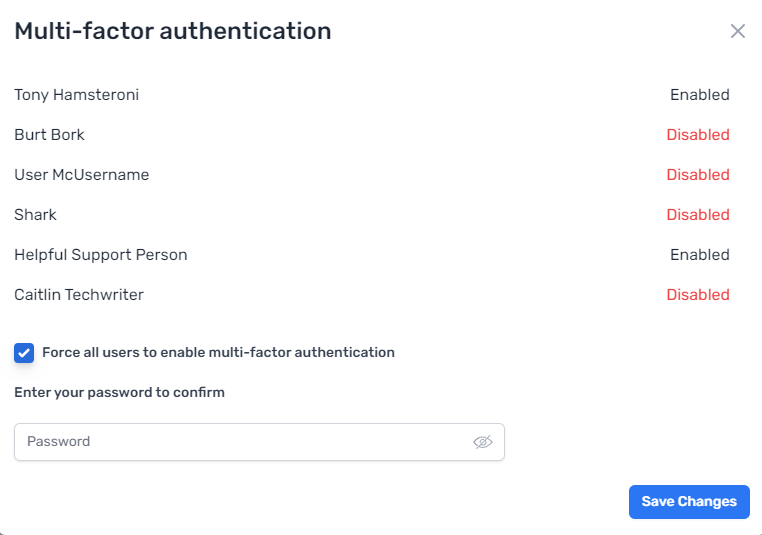 For more information, see Company Profile.
NOTE: Only Admin users can view and click this option.
LAG option for AWS dedicated connections
When creating a Dedicated Cloud Connection to AWS, you now have the option to create a single-member LAG: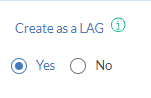 Changes and enhancements
Increased character count for company descriptions
The Company Description field on the Company Profile page now allows up to 500 characters. The previous cap was 150 characters.
Remove duplicate ports when creating a VC
When you create a backbone virtual circuit, you are shown a list of your ports under Select Source Port and again under Select Destination Port.
Previously, whatever selection you made in one list did not affect the other.
Now, when you select a source port, that port is automatically removed from your list of possible destination ports. The same thing happens in reverse if you start by selecting a destination port.
Port details page
We made some small changes in how PacketFabric outbound cross connects appear on the port details page. This is to better align the interface with how we internally manage cross connect orders.
Home page VC request count
We modified the VC Requests count under Service Overview:
It now only shows how many pending virtual circuit requests you have recieved. Previously, it showed both pending and provisioned requests.
Rather than always being orange, it displays a green 0 when there are no pending requests.

Marketplace layout
The marketplace layout has been updated so that the filtering options are at the top of the page, allowing more room for the directory listing.
Network
We have added a Microsoft Azure ExpressRoute on-ramp in Las Vegas, Nevada. This is our fourth ExpressRoute on-ramp.
Bug fixes
Fixed issue where inactive ports were showing as active.
Fixed issue where hosted cloud connections were not refreshing after provisioning.
Removed an empty tooltip that would appear when hovering over RX/TX fields on a port details page.
Removed outdated information that would appear in the side navigation panel when viewing the portal from a mobile device.
Knowledge base
New pages
Updates
Updated on 19 Sep 2022