Service Labels
NOTE:
If you are looking for information about S-VLAN labels, see
S-VLAN Labels
.
You can use labels to organize services.
Labels are available from the admin menu in the upper right of the portal:
Create a label
You can create a label from the portal in two ways:
From the Labels page, click Create label in the upper right.
From a list page, click a service to open its side panel. Select Add label from the actions menu.
Complete the following fields:
Row
Label name

Label name

Enter a name for a label using the following guidelines:

Cannot include the following characters: " ' , (spaces are allowed)
Cannot exceed 40 characters

NOTE: Once created, you cannot edit the label name.

Service

Service

(only available when creating the label from the Labels page)

Select one or more services to assign to the label. You can search by the service name or circuit ID.
Once the label is created, you can add and remove services at any time.
View services in a label
Use the admin menu to go to the Labels page and then click the view icon next to a label to see all members:

You can also click the label name when viewing a service. This will take you to a page where you can view all members of the label, as well as add and remove members.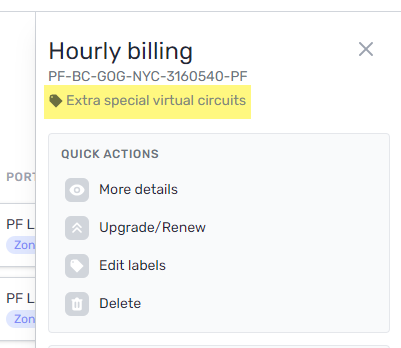 Add and remove services
You can edit label members from the Labels page or when viewing the members for the label.

Delete a label
From the Labels page, click the delete icon next to the label.
Deleting a label does not delete the services within the label; it merely removes the label.
Updated on 06 Apr 2023