Browse the Marketplace
The marketplace is a directory of PacketFabric ecosystem members who have services to offer and are willing to allow other users to request a virtual circuit to their network.
To browse the marketplace, select Marketplace > Services.
For information on controlling how you appear in the marketplace directory, see Marketplace Settings.
Filtering
You can filter by location and category.
To clear your filters, click the 'X' next to your selection:

Searching
Row

Search Type
Case Sensitive
Description

Row

Text

No

Searches company names and descriptions.

Also searches service names, descriptions, and categories.

Row

Routing ID

Yes

Each customer account has a unique routing ID.

For customers who are visible in the directory, you can see their routing ID listed under their service locations.

Customers who do not want to be generally visible in the directory can provide their routing ID to another party. That party can then use the routing ID to search for and find them in the marketplace.

You can find your company's routing ID under Admin > Company Profile. For more information, see Customize Your Marketplace Profile.
Request a Connection
Select the service provider to whom you would like to connect. A window opens with a list of services they are offering: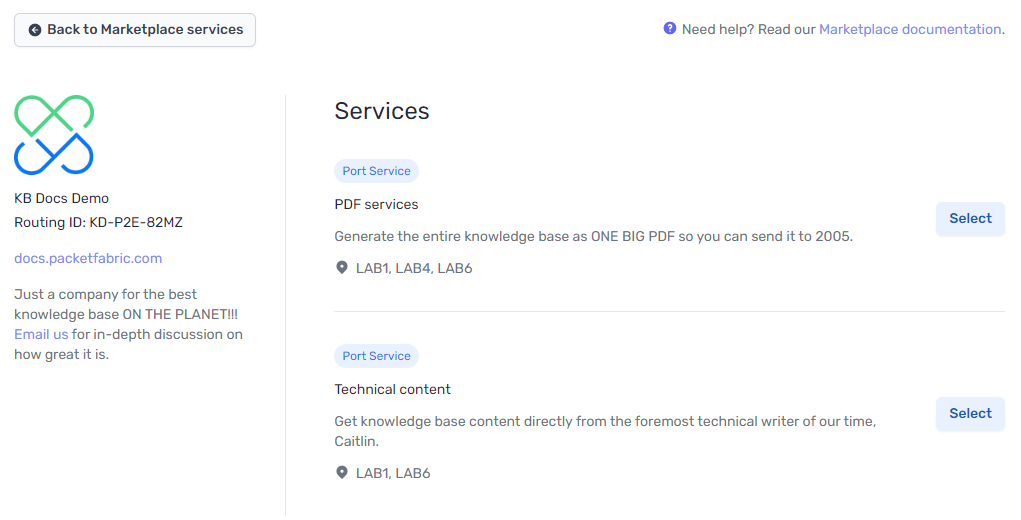 Once you select a service and location, you are redirected to the appropriate virtual circuit order form. For more information, see Create a Marketplace Connection.
NOTE:
At this time, the marketplace only includes third-party service providers. For information on connecting to an internet exchange, see
Create an IX Connection
.
Related APIs
Updated on 23 Aug 2022