Company Profile
The Company Profile page displays information about your account.
Admin users can edit the following information:
Company name
Logo
Website
Company type
Company display name
Company description
Multi-factor authentication requirement
Search visibility
Marketplace settings
Multi-factor authentication
You can use this setting to require multi-factor authentication (MFA) for all users.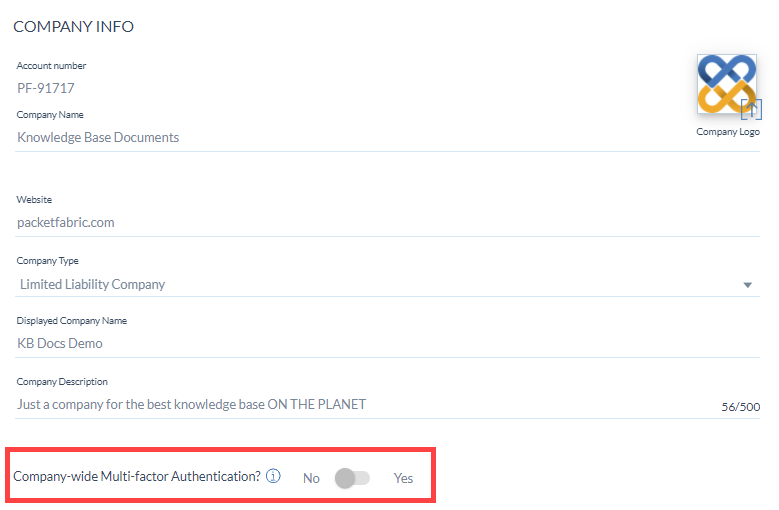 No: Users can opt-in to MFA from their user account page.

Yes: Users cannot access the portal until they complete the setup process. This takes effect the next time the user logs in.
When you click the toggle, a window opens listing users and their MFA status.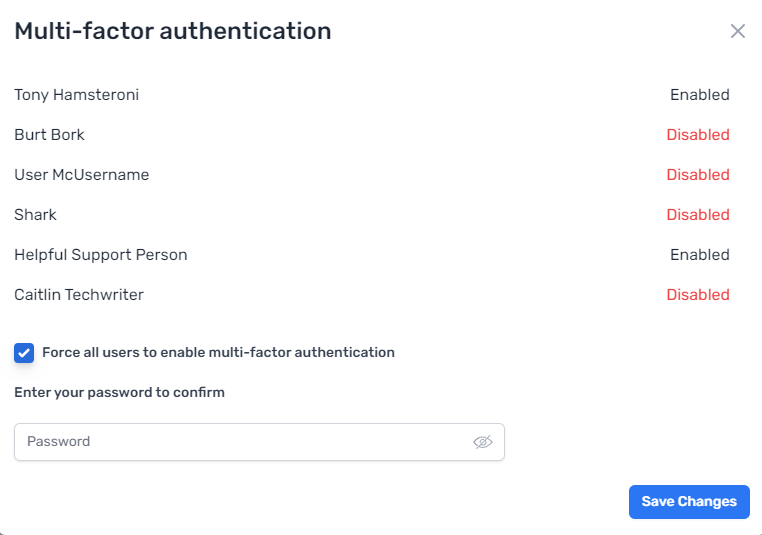 NOTE: Only Admin users can view and click this option.
Search visibility
The Make company searchable option controls your visibility within the PacketFabric ecosystem.
If set to Yes, you are visible to other PacketFabric users in the following ways:
Your company can appear in API-level searches and responses.
Your company appears in the marketplace IF you have one or more published marketplace services.

TIP:
You can remain unsearchable while still allowing connections from pre-approved ecosystem members.
For this to work, you need to publish one or more marketplace services and then provide the other party with your Routing ID. For more information, see Customize Your Marketplace Profile.
Marketplace settings
These settings are optional and do not currently affect how your company appears in the marketplace directory. However, they may be used with features that are planned for future development work.
If you do not intend to allow connection requests from other PacketFabric ecosystem members, you can ignore this section.
For information on customizing how your company appears in the marketplace, see Customize Your Marketplace Profile.
Related APIs
Updated on 12 Mar 2021