Delete an Interface
Before you can delete a port, the following conditions must be met:
You have removed all associated services, this includes any virtual circuits or cloud connectivity services using the port.
If the port is a member of a LAG interface, you must remove the port before deleting it.
Early termination fees
Per our terms and conditions, you have 24 hours to delete a port without incurring a financial penalty. This is regardless of the contract terms you selected.
Once that window has passed, and if you selected a longer service term when creating the port, you must pay an early termination fee. This fee is equal to the amount remaining on your contract, but does not include any additional financial penalties for early termination.
Deleting ports
To delete a port, click the overflow menu next to the port and select Delete.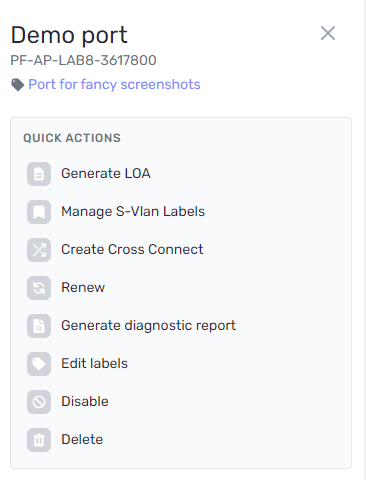 A confirmation message appears. Enter delete and then click Yes, Delete Interface.
NOTE: You are responsible for contacting the data center and having the cross connect removed.
IMPORTANT:
Once deleted, you will not be able to access port-specific information such as router logs, statistics, or any documents you have uploaded under the port Documents page.
Some logging information will remain available in the Activity Log, and PacketFabric documents are preserved on the Documents page.
Deleting LAG interfaces
When you delete a LAG interface, any members it still has are temporarily disabled, returned to an independent interface, and then re-enabled.
To delete a LAG interface, click its overflow menu and select Delete LAG Interface or expand the LAG and click Delete.

A confirmation message appears. Click Yes, Destroy.
Related Links
Related APIs
Updated on 25 May 2021