Billing Accounts and Items
Log in to the PacketFabric portal and select Billing. If you do not see this option, your account might not have appropriate permissions.
Customers who signed up through a PacketFabric reseller partner do not have access to the billing pages.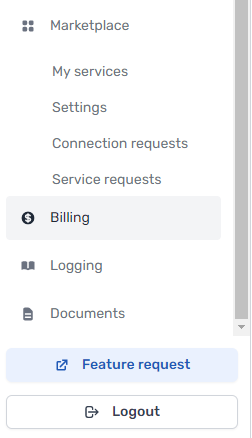 Under Manage Billing, you have the following options:
Billing Items
Billing Accounts
Billing items
This is a sortable list of all your billable services. You can filter by billing account and product type, or search for a specific product.
Billing accounts
From here you can create, edit, and delete billing accounts.
When you have multiple billing accounts, you can select which billing account to use when creating services. Separate invoices are generated for each account.
Note: You need Admin privileges to create and edit billing accounts.
You cannot delete a billing account that has active services. You can edit the account instead.
Create a billing account
To create a new billing account, click Create Billing Account in the upper right.
Complete the following fields:
Header row
Row 1

First Name
Last Name

PO Number

You can either add a person as the contact for the billing account, or use a purchase order (PO) number.

Row 2

Email

Enter an email contact for the account.

IMPORTANT: The email address you specify receives a monthly notification with invoice and payment information.

Row 2

Phone
Enter an phone number for the account.

Row 1

Address 1/2
City
State/Province
Postal Code
Country
Enter the appropriate mailing address for the account.

Row 1

Make this the default billing account
If selected, this account is pre-populated as the billing account when ordering PacketFabric services. Other accounts remain selectable from the drop-down menu.
Edit a billing account
To edit an existing account, click Edit next to the account.

NOTE: If you do not see the Edit icon, your user account doesn't have the appropriate pemissions. Contact one of your account admins.
Make a default billing account
The default billing account is the one specified when you created your PacketFabric account. This account is selected by default when ordering PacketFabric services.
To change the default account, edit the billing account (see the steps above) and select Make this the default billing account.
Updated on 08 Feb 2022