Delete a Point-to-Point Connection
NOTE: Before you can delete a connection, you must disconnect the cross connects to the point-to-point ports. If you ordered cross connects through PacketFabric, you can use the Cross Connects page to request their deletion. If you worked with the colocation facility directly, you must contact them to request that they be disconnection.
Log in to the portal and go to the Point-to-Point page. Click the connection you are deleting and then select Actions > Delete: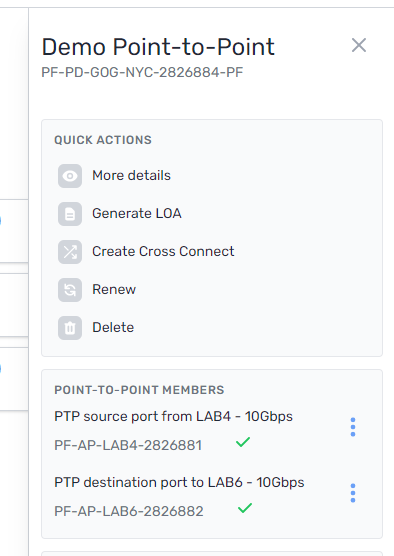 If the connection is less than 24 hours old or is on a month-to-month term, then a confirmation message appears. Enter "Delete" in the field provided and click Yes, Delete Point-to-Point.
If the connection is outside of its cancellation period and is on a longer term, you will be required to agree to an early termination fee that is equal to what remains on the contract.
NOTE: Once deleted, the connection is immediately disconnected, but might take a few minutes to fully delete.
Related APIs
Updated on 07 Dec 2021