Delete a Point-to-Point Connection
IMPORTANT: Per our cancellation terms, you have 24 hours to delete the connection without incurring any costs.
Log in to the portal and go to the Point-to-Point page. Select Delete from the overflow menu next to the connection: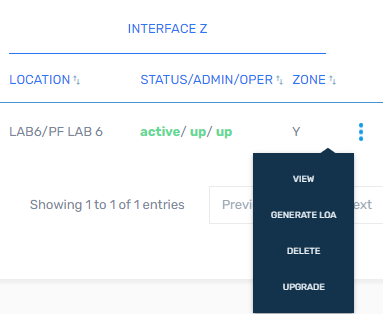 If the connection is less than 24 hours old or is on a month-to-month term, then a confirmation message appears. Enter "Delete" in the field provided and click Yes, Delete Point-to-Point.
If the connection is outside of its cancellation period and is on a longer term, you will be required to agree to an early termination fee that is equal to what remains on the contract.
NOTE: Once deleted, the connection is immediately disconnected, but might take a few minutes to fully delete.
Related APIs
Updated on 23 Sep 2021