Company Contacts
NOTE:
Only
Admin users
have permission to add or update contacts.
The Company Contacts page identifies who should receive PacketFabric correspondence.
Company contacts are different than users; adding someone as a contact does not grant them access to the portal.
There are two different contact roles:
Header row

Row 1

Admin

PacketFabric reaches out to Admin contacts with any access-related questions or issues

By default, the user who created the account is assigned to this role. However, you can create additional Admin contacts.

NOTE: An Admin contact is different than an Admin user.

Admin users are managed through user groups and have permission to update company information, company contacts, and add/edit/remove users.

Unlike with Admin users, it is possible to have an Admin contact who does not have login credentials to the portal.

Row 2

Technical
Technical contacts receive maintenance and outage notifications.
To create a billing contact, you can associate someone with a billing account. For more information, see
Manage Billing
.
Add a Contact
Log in to the PacketFabric portal.

Click Admin.

Under Account, select Company Contacts.

Click Add Company Contact in the upper right.

Complete the fields with the appropriate information.

TIP: You do not have to use an individual email address. For maintenance notifications, it might be useful to assign an email distribution list to the Technical role.

Select one or both roles for the contact.

Click Add Contact.
Edit a Contact
Click the edit icon in the contact's table row: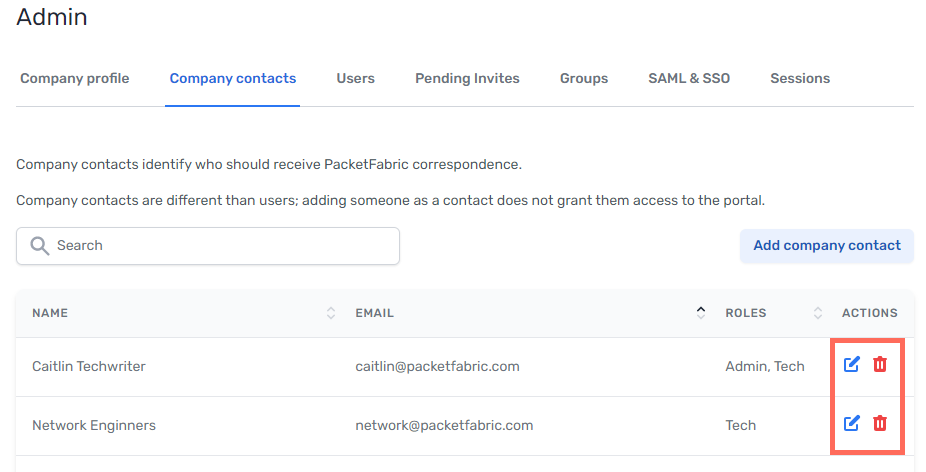 All fields are editable.
Delete a Contact
Click the delete icon in the contact's table row:

Related APIs
Updated on 23 Aug 2021