Company Contacts
Depending on your user permissions, you can access administrative information by clicking your company name in the upper right of the portal.
Select Contacts to view and edit who should receive certain types of PacketFabric correspondence.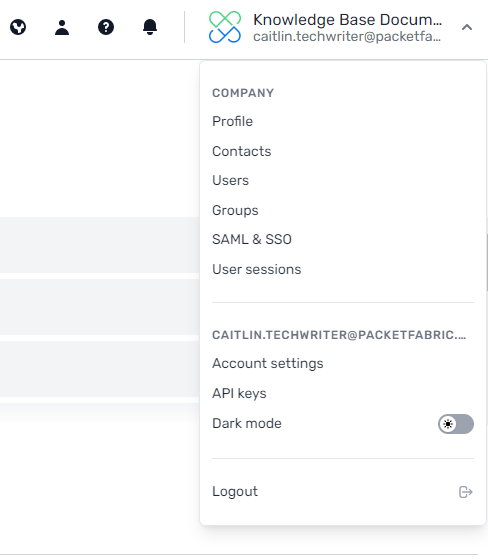 Contacts vs. users
Adding someone as a contact does not grant them access to the portal. Contacts do not have usernames and passwords.
Similarly, a user is not automatically added as a contact. If you want someone to be both a user and a contact, you need to add them separately.
The benefit to this is that you can use email aliases to set up contacts without worrying about the security concerns around shared login information.
For example, you could create a contact that directs all correspondence to network.engineers@company.com.
Contact types
Header row

Row 1

Admin

PacketFabric reaches out to Admin contacts with any access-related questions or issues. For resellers, Admin contacts also get notified when a customer deletes or provisions a service.

By default, the user who created the PacketFabric account is assigned to this role. However, you can create additional Admin contacts.

NOTE: An Admin contact is different than an Admin user.

Admin users are managed through user groups and have permission to update company information, company contacts, and add/edit/remove users.

Unlike with Admin users, it is possible to have an Admin contact who does not have login credentials to the portal.

Row 2

Technical
Technical contacts receive maintenance and outage notifications.

Row 2

Billing

The billing contact is the contact information associated with a particular billing account. The billing contact only receives correspondence relevant to that billing account.

You can manage your billing contacts when creating and editing billing accounts; not from the Company Contacts page. See Manage Billing.

Row 2

Request alias
(Managed via API)

Request aliases receive an email notification when a user requests a connection to your network via the marketplace. Request aliases are only relevant if you plan on publishing services in the PacketFabric marketplace.

To designate a request alias, you must first create a contact for that person (see below). When creating the contact, you can leave the Technical and Admin checkboxes blank.

Then use the Request Aliases API to associate that contact with a market. See Request Aliases in the API docs.
Correspondence
Header row

Notification
Admin
Tech
Billing
Request alias

Row 1

Row 1

Customer provision/deletion notifications
(Reseller Admin Portal only)
X

Row 1

Maintenance and outage notifications
X

Row 1

Invoices and service renewal reminders
X

Row 1

Marketplace connection requests
X*
X
* The original Admin contact (the person who created the PacketFabric customer account) is the default recipient for all marketplace connection requests. You cannot delete the Default request alias, but you can edit it so that another contact is the recipient.
Add a contact
Log in to the PacketFabric portal as an Admin user. Click your company name in the upper right and select Contacts:

Click Add company contact in the upper right (only Admin users see this option).

Complete the fields with the appropriate information.

TIP: You do not have to use an individual email address. For maintenance notifications, it might be useful to assign an email distribution list to the Technical role.

Select one or both roles for the contact.

Click Add Contact.
Edit or delete a contact
Users with admin permissions can use the edit and delete actions to manage contacts: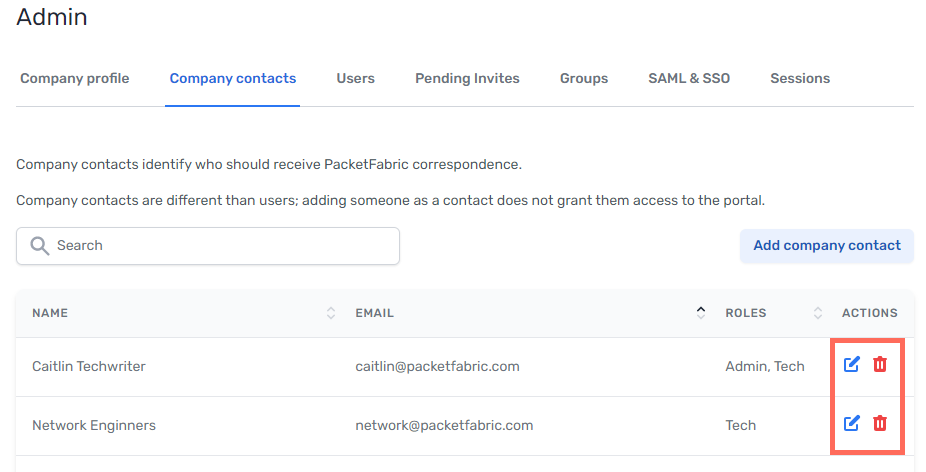 Related APIs