Create Multiple Ports
The Bulk Provision Quote Tool allows you to create multiple services at once.
The tool reflects real-time information from the PacketFabric POPs. For example, if there are only 20 ports available at certain location, and you attempt to order 21, an error message appears.
NOTE: You can use this tool to create multiple ports, multiple virtual circuits from those ports, and multiple point-to-point services.
However, you cannot use this page to create multiple virtual circuits from previously provisioned ports. The Virtual Circuits forms pull their information from the selections you make under Physical Ports.
Create an Interface: Multiple Ports
Log in to the PacketFabric portal.

Select Network > Interfaces.

Click Create and then select Create Multiple Ports.

Under Quote Details, enter a descriptive name for the quote and select a billing account.

Create one or more physical ports, virtual circuits, or point-to-point connections. See below for more information.

When you are finished creating your quote, you have the following options:

Cancel

Cancel your order without saving.

Create SOF

Create a service order form. You can use this option if you need to submit the costs for approval first.

Your quote is saved and is available under Billing, but your selections are locked and you cannot make any changes.

Once created, you have two new options:

Download SOF - Download a PDF copy.
SOF Sign Off - Click this to indicate that the SOF has been approved. Once clicked, this option is disabled, but no other actions occur. It is merely informational.

Click Cancel to exit the tool. Your quote remains saved.

Place Order

Your services begin provisioning immediately.

Save Quote

Your quote is saved and is available under Billing. You can return to the quote and continue to make changes before provisioning.
TROUBLESHOOTING NOTE:
If the Place Order options are disabled, ensure that you do not have any empty fields or field groups.
For example, if you are not ordering any virtual circuits, you need to remove the default/empty Virtual Circuit field group.
IMPORTANT:
When you create the quote, you are seeing real-time data as to what services are available. If you save and return to the quote, there is no guarantee that what you selected will still be available.
Physical Ports
Virtual Circuits
PacketDirects
Next Steps
If you clicked Place Order, your services begin provisioning immediately.
From the Network > Interfaces page, click the overflow menu next to your new ports: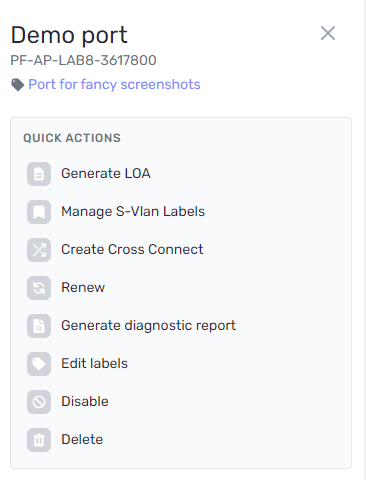 Click Generate LOA. Provide this to your data centers to have the cross connects built.
If you created an SOF or saved your quote, you can find your saved quote under Billing.
Related Links